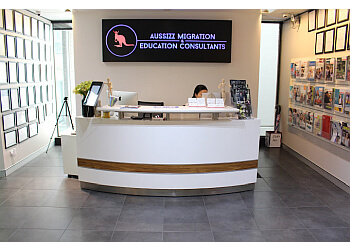 Aussizz Migration and Education Consultants prioritize customer satisfaction, considering various service factors. They possess substantial expertise and knowledge of migration laws and procedures. Their team of experienced MARA agents delivers authentic services, displaying professionalism and qualification in offering reliable immigration advice and assistance for Australia. The staff is well-trained in the nuances of migration law and procedures, ensuring excellence in providing immigration assistance. They are committed to consistently representing the finest Australian immigration solutions and guaranteeing a stress-free experience for you and your family concerning your visas to Australia.

UNIQUE FACTS:
• Top-notch Services
• Expert And Professional Staff.
Specialty:
Appeals and Reviews, GSM Visa, Protection and 866 Business, Visitor, Family, Partner, Parent, Student, Employer-Sponsored, Protection Visa, Temporary Activity Visa, Visa and Education Services & General Skilled Migration
Contact:
Working Hours:
Mon - Fri 9:30 am - 5:30 pm
Sat & Sun Closed
TBR® Inspection Report: