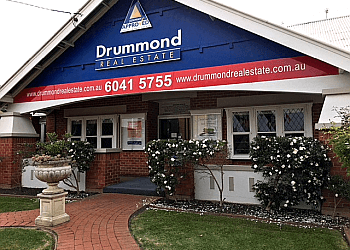 Drummond Real Estate, established in 1977, has been a trusted presence in facilitating property transactions in the Albury Wodonga area. Their team has garnered a reputation for delivering up-to-date and fact-based guidance, ensuring clients are well-informed about the dynamic real estate market. Setting themselves apart, the salespeople at Drummond Real Estate personally oversee matters, providing clients with comprehensive support from the entire sales team and support staff. The agency introduces a risk-free sales process, reflecting a commitment to client satisfaction and confidence in their services. Drummond Real Estate's philosophy centers on guaranteeing the highest standard of ethics, client care, and personalized service. Clients benefit from a free property appraisal, aligning with the agency's dedication to transparency and client-centric practices. Conducting business with a foundation of honesty, integrity, and transparency, Drummond Real Estate prioritizes building lasting relationships based on trust and ethical practices. Through decades of service, they have consistently demonstrated a commitment to excellence, making them a reliable partner for those navigating the real estate landscape in the Albury Wodonga region.

UNIQUE FACTS:
• Risk-free Sales Process:
• Personalized Sales Approach
• Philosophy Of Highest Ethical Standards
• Long-term Reputation.
Specialty:
Villa, Flat, Studio, Warehouse, Buying a Home, Selling, House, Unit, Land, Apartment, Townhouse, Listing, Leasing, Property Search & Market Appraisal
Contact:
Working Hours:
Registration ABN 60 114 833 724
TBR® Inspection Report: