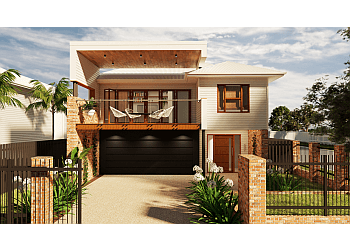 Domek Architects, a dynamic design firm situated in Logan City and Brisbane, brings a fresh and exciting perspective to the architectural scene. Founded by Jessica Vaggelas, who holds a Master of Architecture from The University of Queensland, the firm operates under the registration of the Board of Architects Queensland (BOAQ), allowing them to provide architectural services across the entire Queensland region. Domek Architects is driven by a goal to deliver layouts and designs that enhance the lifestyles of their clients. Embracing a holistic approach, the firm seamlessly integrates architecture with interior and landscape design. This holistic method ensures a comprehensive and unified vision for each project. Domek Architects is open to projects of diverse scales and construction budgets, ranging from small micro-living endeavors like granny flats to renovations, new custom luxury homes, and multi-residential developments. This inclusive and versatile approach underscores their commitment to meeting the unique needs of their clients across a broad spectrum of architectural endeavors.

UNIQUE FACTS:
• Founder's Academic Background
• Holistic Architectural Approach
• Versatility In Project Scope
• Geographic Presence
• Fresh And Exciting Perspective.
Specialty:
New Custom Luxury Homes, Pre-Design Consultation, Residential Projects, Renovations, Concept Sketch, Design Development, Construction Documents, Builder Selection & Project Management
Contact:
Working Hours:
Mon-Fri: 8am - 5 pm
Sat & Sun: Closed
Registration ACN: 613 630 970
TBR® Inspection Report: