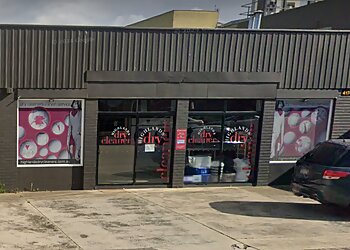 Highlands Dry Cleaners is a family-owned and operated dry cleaning business. They are dedicated to enhancing the future dry cleaning experience. Their commitment involves incorporating cutting-edge technologies into their work processes and service methods to create a more enjoyable and hassle-free customer experience. Specializing in the cleaning and preservation of formal and wedding gowns, the shop places a strong emphasis on providing complete care for garments. The cornerstone of Highlands Dry Cleaners' reputation lies in their dedication to quality cleaning and exceptional customer service. The staff, known for their knowledge and experience, is devoted to delivering top-notch service to satisfy customers. Adhering to manufacturer's instructions, they ensure curtains are cleaned with precision. The shop's proficiency extends to the successful restoration of wedding dresses, making it possible for families to present a cherished gown on significant milestones such as a 60th wedding anniversary. Highlands Dry Cleaners takes pride in offering same-day service and a commitment to returning all entrusted garments. For added peace of mind, they provide a 100% customer satisfaction guarantee, reinforcing their commitment to customer care.

UNIQUE FACTS:
• Highly Experienced And Knowledgeable
• Prompt, Reliable Service.
Specialty:
Leather and Suede, Pants, Clothing Repairs, Shirts, Full Skirt, Heavy Beading, Doonas, Silks, Suits, Laundry, Blankets, Curtains, Soft Furnishings, Plain Polyester Gowns Cleaning Services, Bedspreads & Alterations
Contact:
Working Hours:
TBR® Inspection Report: