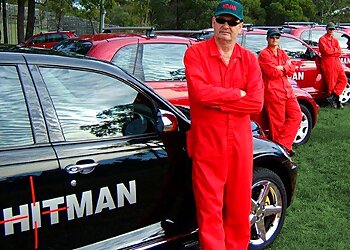 Hitman Professional Pest Control stands as a respected pest control company with a legacy dating back to 1995, owned by Niels and Donna Ross-Teigan. They boast a team of well-trained technicians who specialize in tailored solutions. These professionals meticulously inspect homes for live termites, termite damage, and signs of prior activity. Staying current with the latest in pest prevention, Hitman Professional Pest Control administers treatments that guarantee nothing less than the highest quality and safest protection against pests. Their experts undergo rigorous training to ensure the delivery of exemplary service. Equipped with cutting-edge tools such as thermal imaging, moisture meters, and listening devices, the team identifies even the earliest indications of a termite infestation. Providing a full 12-month service warranty for ants and spiders and complimentary annual termite checks, they prioritize customer satisfaction and peace of mind.

UNIQUE FACTS:
• Over 20 Years Of Experience
• Full 12 Month Service Warranty.
Specialty:
Ants, Bed Bugs, Beetles, Bees, Cockroaches, Fleas, Flies, Mosquitoes, Mice, Rodents, Rats, Silverfish, Spiders, Termites, Wasps, German Cockroaches, Bird Lice, Residential & Commercial Pest Control Services

Serving Locations:
Gold Coast, Sunshine Coast, Logan & Ipswich
$Price:
Complete Pests Package $280

Contact:
Working Hours:
Registration ABN 37 073 713 550
TBR® Inspection Report: