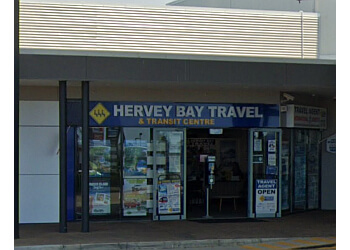 Hervey Bay Travel & Transit Centre is a locally owned and operated travel agency in Hervey Bay city, boasting 25 years of continuous operation, ensuring a wealth of expertise. The staff undergoes ongoing training, guaranteeing access to the latest products and services. The agency prioritises total customer satisfaction and value, making it the topmost concern. At Hervey Bay Travel & Transit Centre, you can expect expertise and free booking services for Coach and Queensland Rail tickets, Fraser Island tours, and Whale Watch excursions. The agency is committed to securing the best possible deals for tours and accommodations, ensuring your travel plans align with your expectations. Whether you're booking International or Domestic Tours, Flights, Cruises, Escorted Trips, Vacation Packages, Travel Insurance, or Accommodations, Hervey Bay Travel & Transit Centre has you covered.

UNIQUE FACTS:
• Experience & Knowledge
• Stress-Free Travel
• On-Site Services.
Specialty:
Tickets, Cruises, Local and Extended, Bus, Coach and Rail Bookings, Domestic and International Packages, Escorted Group, Seniors, Foreign Exchange, Backpacker & Whale Watch Tours
$Price:
3 Nights | Margaret River Region Wine & Nature Discovery starts from $1,309
3 Nights | Ningaloo Adventure starts from $1,375
7 Nights | Padma Resort Legian starts from $1,059
2 Nights | 3 Day Victoria's Scenic Nature Getaway starts from $1,069
7 Nights | Causeway Coastal Self-Drive starts from $1,489

Contact:
Working Hours:
Mon-Fri: 8:30am - 4pm
Sat & Sun: Closed
Registration ABN 52 075 869 993
TBR® Inspection Report: