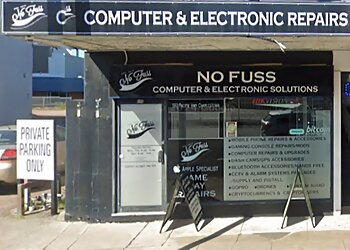 No Fuss Computer & Electronic Solutions, a locally-owned and operated computer repair business established in 2015, offers in-shop, on-site, and remote diagnostic services. Their specialised technical team excels in computer and electronics repair, delivering high-end, top-quality repairs to customers through their expertise and extensive experience. They cater to all models of PCs and laptops, providing superior repair services. Their clientele includes domestic, small businesses, commercial, industrial, and residential customers, and they ensure 24-hour service, surpassing customer expectations. Additionally, No Fuss Computer & Electronic Solutions manages gaming console repair services.

UNIQUE FACTS:
• Fully Trade Qualified Electronic Technicians
• One-stop-shop All The Repairs.
Specialty:
Screen Repairs, Keyboard Replacement, Faulty Battery, Insurance Quotes, Hard Drive Replacement/Upgrades, Data Recovery, Memory Testing and Upgrades, CPU, RAM and GPU Stress Testing for Reliability, Software Problems and Crashing, Virus and Spyware Removal, Blue Screen Errors, Gaming Consoles & Security Camera
Contact:
Working Hours:
Mon-Fri: 9am - 5pm
Sat: 9am - 1pm Sun: Closed
Registration ABN 33 817 697 231
TBR® Inspection Report: