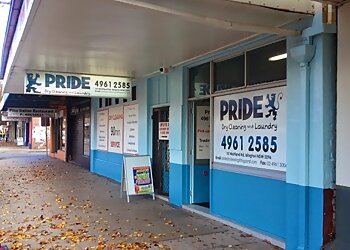 Pride Dry Cleaning & Laundry, a family-owned and operated full-service dry cleaning business. They includes a commercial laundry facility for processing shirts, suiting, and various household items. Their commitment is to provide high-quality dry cleaning and laundry services at affordable rates without compromising on quality. Their expertise extends to clothing repairs and alterations, catering to domestic, commercial, and industrial needs. Notably, Pride is the exclusive NDIS-registered dry cleaner in the region, enhancing accessibility to quality services for individuals of all abilities. Emphasizing environmental sustainability, they employ eco-friendly cleaning solutions with minimal chemical exposure. Their competitive pricing is a fundamental aspect of their business, and as proud partners of the Plastic Police, they encourage customers to return plastics for recycling. Serving the Hunter region, Pride Dry Cleaning offers complimentary pick-up and delivery services. Their 24/7 contactless pick-up/drop-off RedBox system ensures convenience around the clock. Beyond dry cleaning, they address various garment needs, from simple seams to major repairs and loose buttons.

UNIQUE FACTS:
• Professional Friendly Cleaning
• Affordable Prices
• Free Pick Up And Delivery Service.
Specialty:
Dry Cleaning, Shirt, Pants, Saree, Uniforms, Wedding Dresses, Uniforms, Upholstery, Everyday Attire, Stain Removal, Shoes, Suits, Family Heirlooms, Ski Gear, Alterations, Beddings & Garment Mending
Contact:
Working Hours:
Mon-Fri: 7am - 4:30pm
Sat: 8am - 11pm
Sun: Closed
Registration ABN 81 147 169 088
TBR® Inspection Report: