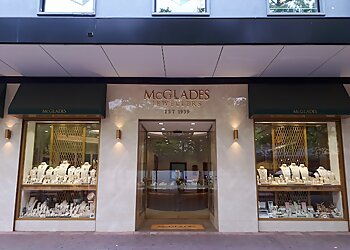 McGlade's Jewellers is a renowned jewellery store in Canberra, stands out as a prominent establishment with a wealth of experience in the field. The cornerstone of their philosophy is an unwavering commitment to providing an exceptional customer experience. Boasting an extensive range, the talented team at McGlade's Jewellers specialises in creating handmade jewellery meticulously designed and crafted on-site. In addition to their in-house creations, McGlade's Jewellers proudly features an array of local and international jewellery and giftware collections. Over time, McGlade's Jewellers has established itself as an institution for connoisseurs of unique design, fine-quality jewellery, giftware, and collectables. The store has become a destination where customers can explore and appreciate the artistry of exquisite and distinct designs. McGlade's Jewellers offers a beautiful and unique selection of jewellery and giftware and a comprehensive range of jewellery services. With a commitment to excellence and a reputation for showcasing fine craftsmanship, McGlade's Jewellers remains a sought-after destination for those seeking distinctive and high-quality pieces in the realm of jewellery and giftware in Canberra.

UNIQUE FACTS:
• In-store Shopping
• 100% Satisfied Guarantee
• Affordable Prices.
Specialty:
Custom Design, Jewellers, Designers, Goldsmiths, Re-Stringers, Valuers and Gemmologists, Gift Coins, Gold Recycling & Jewellery Remaking
Contact:
Working Hours:
Mon, Tue, Thu & Fri: 10am - 5pm
Sat: 10am - 4pm
Sun & Wed: Closed
Registration ABT 82 621 038 015
TBR® Inspection Report: